July 1, 2022
Posted by:

abrek

Category:

Salesforce Articles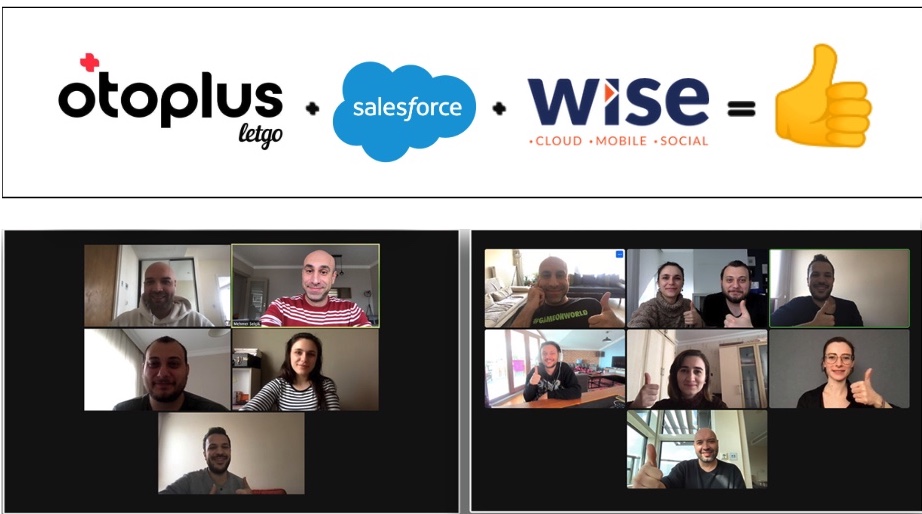 The largest 2nd Hand Car Marketplace Otoplus, the easiest way to buy and sell second-hand cars in Turkey, with the assurance of Letgo, preferred to work with the Wise team to build their Salesforce system. The large-scale digital transformation project was managed with an "Agile" approach. A comprehensive system was established, and different structures, such as, the Otoplus platform, calendar appointment system, vehicle management platform, and SMS system were integrated with Salesforce.
At Wise, we are proud of being able to recognise the value of Salesforce to its global customers for Otoplus. With this project, we worked under the "new normal" conditions that the pandemic has taught us to expect, with team members coming from 7 different cities across 3 different countries.
Let's hear the rest of the story from our customer Otoplus:
Mehmet Ali Selçik – CRM Manager, Otoplus
The second-hand vehicle buying and selling marketplace in Turkey is a very competitive market, where big players make large investments. As Letgo, we took care to choose a Salesforce solution partner that can work "Agile", in a way that adapts to our dynamic conditions, whilst at the same time having successfully completed similar projects. As well as building the infrastructure of the Otoplus platform and constructing our business processes in an integrated manner on Salesforce. Thanks to our project, which was completed as planned, we have reached an advantageous point, both in terms of managing Otoplus business processes efficiently and for our future global projects.
Kadir Sürer – Salesforce Product Manager, Otoplus
The Otoplus Salesforce project was an extremely complex and large project. In addition to the integrations, we have built different systems, such as the Otoplus platform, online appointment system, and SMS solution We have brought our Salesforce efficiency to the highest level by commissioning the newest features offered by Salesforce, which meet our business needs. Working with Wise, a team that can meet challenging calendar deadlines that were expected from us throughout the project. They adapted quickly to sudden developments and business decisions, and take the necessary steps in a project very quickly and accurately. They played an important role in our success.
Elif Ekim and Ömercan Aydın – Salesforce Admin, Otoplus & Letgo
When we joined the Otoplus family as Salesforce Admin, the Salesforce project was already in progress. Even though we joined the project late, we became a good team in a short space of time, with our business partner Wise. Despite being in different cities, under pandemic conditions, we achieved a very harmonious and efficient working environment. Throughout the process, they paid particular attention to designing and establishing a system that we could manage by ourselves – independently of the business partner – after the project, and to transfer information about it.