April 29, 2021
Posted by:

Gülşah Özük Yüksel

Category:

Salesforce Articles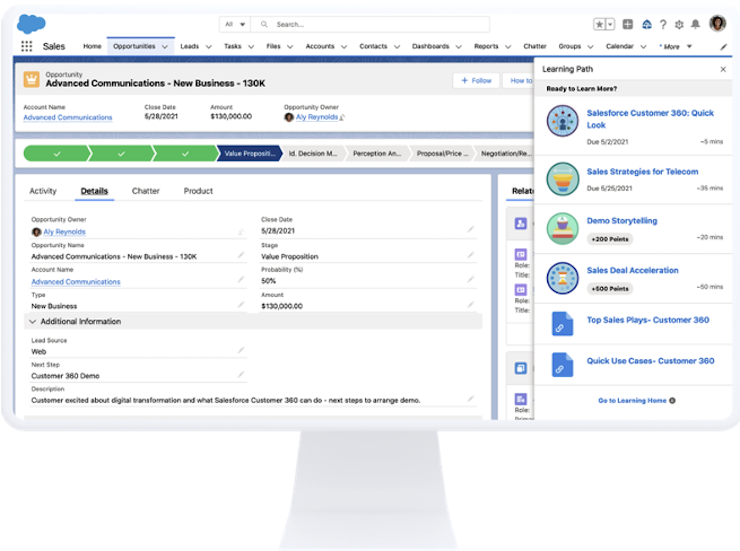 Announcing Salesforce Learning Paths, Reinventing Workplace Learning for the All-Digital World!
Here is the latest news from Salesforce:
Salesforce Learning Paths help employees succeed from anywhere with personalized learning directly in Salesforce
According to new research, 59% of employees have had fewer opportunities for workplace learning since the pandemic; 76% prefer to learn in small moments throughout the day than via formal training
Customers including Elekta and United Utilities are using Salesforce Learning Paths to onboard and skill up employees across their organizations
Salesforce today announced Salesforce Learning Paths, which powers personalized learning in Salesforce so employees can learn in the flow of work, when and where they need it most.
The last year has changed the way we live, work and do business forever. We've entered an all-digital world where Zooms are the new meeting rooms and kitchens are the new call centers. At the same time, companies are rapidly accelerating their digital transformations and need a workforce with the skills for the future. Employees want to learn on the job wherever they choose to work, but are finding fewer opportunities to develop their skills outside of the office. According to new research, 59% of employees say they've had less access to workplace learning since the pandemic.
Introducing Salesforce Learning Paths
Trailhead, Salesforce's free online learning platform, has helped more than three million people learn new skills for the future of work. Trailhead's success led to the launch of myTrailhead, which allows companies to leverage the Trailhead platform to build and deliver their own learning content to onboard and enable their sales and service teams.
Now with Salesforce Learning Paths, companies can integrate these learning technologies directly into Salesforce, empowering employees with the on-the-job learning they need to connect with their customers across sales, service, marketing and commerce in the all-digital world.
Seventy-six percent of employees would rather learn in small moments throughout the day than in a formal training. Salesforce Learning Paths allow employees to work and learn seamlessly in a single Salesforce environment. They can tap into Trailhead, myTrailhead and external learning resources – including bite-sized videos and gamified quizzes – to learn what is needed, when it is needed. What once required a full week of training can now be accomplished in small moments of learning in the flow of work throughout the day.
Business leaders and managers can personalize learning according to an individual, role, team or for the entire organization, helping employees reach their development goals and organizations build workforce expertise.
In addition, employees can take control of their career development with the new Learning Home in Salesforce, where they can view assignments, track progress and discover new learning paths as they build skills and knowledge.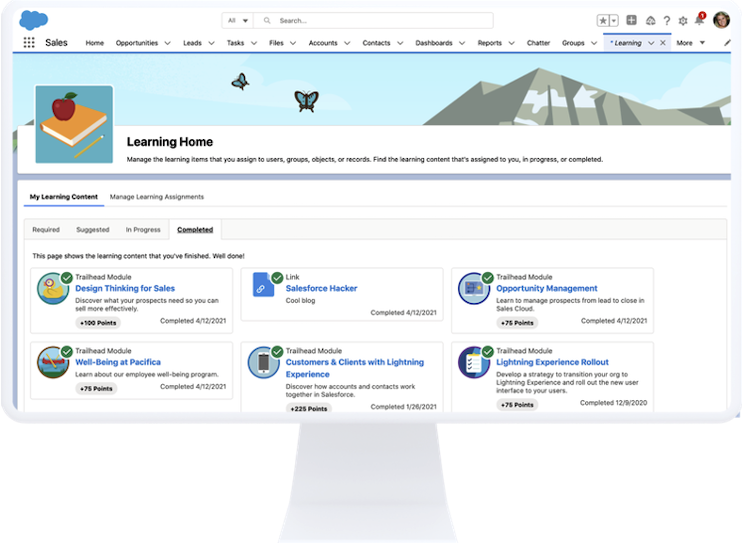 Unlocking learning in Salesforce
Salesforce Learning Paths give companies the ability to:
Learn directly in Salesforce: Surface relevant learning content in the context of employees' work, at the moment they need it most
Personalize learning: Tailor content for specific individuals, roles, teams or for the entire organization
Drive and analyze engagement: Engage employees with gamification, assignments and leaderboards that analyze learning progress in real time
Comments on the news
"The past year accelerated the shift to a digital-first world, and the new way of work demands new skills and ways to learn," said Heather Conklin, SVP & GM of Trailhead at Salesforce. "With new technology that helps employees learn in the flow of work from anywhere, Salesforce Learning Paths is helping companies build workforce expertise for the future." 
"Salesforce Learning Paths has enabled us to implement an engaging and ongoing learning experience across our entire organization," said Scott Davison, Director of Global Sales Excellence at Elekta. "Our employees love that relevant learning content is served directly in the flow of work and broken into gamified, bite-sized content. They stay engaged from the sense of accomplishment they get from earning points and badges along the way."
"With Salesforce Learning Paths, we're already seeing a direct uplift in our employee engagement," said Jo Nixon, Salesforce Programme Manager at United Utilities. "The past year has taught us how invaluable workplace learning is, and now we're able to integrate our training directly into Salesforce. And it's available to employees no matter where they're located, allowing more inclusive and accessible job training."
Pricing and Availability
Salesforce Learning Paths is expected to be generally available this summer and included in all Sales, Service, Industries and Platform user licenses.
 Read more about Salesforce Learning Paths and how Elekta is using it to drive learning across its workforce.
Link to the original article on Salesforce Blog.
You can check our web site.