January 2, 2020
Posted by:

Gülşah Özük Yüksel

Category:

Salesforce Articles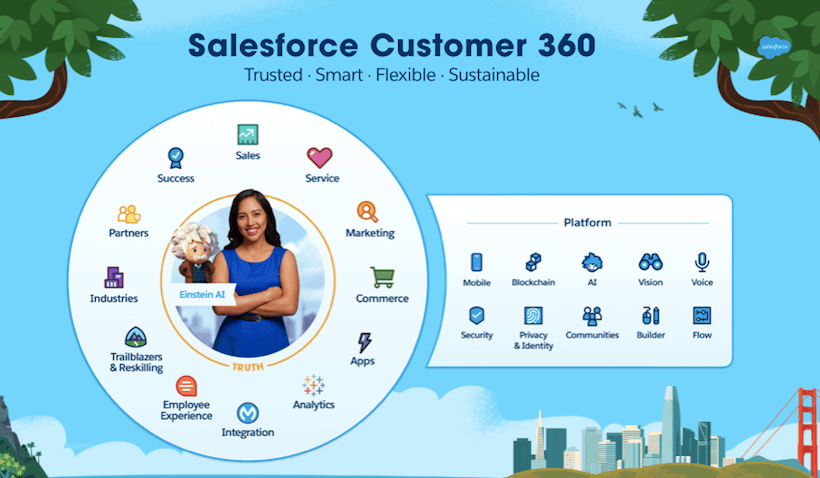 Here is the latest news from Salesforce:
"Achieving a "360-degree view" of customers has been the 'Holy Grail' of digital transformation. In an era when companies are competing on the experience they deliver to customers, not just their products, it's imperative to have that full view of each customer. Doing so requires connecting customer data across sales, service, marketing, commerce and more, and matching that data to create a single ID for each individual. With Salesforce Customer 360, we're delivering on that vision. In the following interview, Patrick Stokes, Executive Vice President of Platform Shared Services at Salesforce, gives an in-depth view of Customer 360 and discusses new capabilities announced at Dreamforce that enable a single source of truth and the creation of exceptional customer experiences. 
How would you describe Customer 360, and why is it important to customers?
Customer 360 is our vision for how we help customers with their digital transformations. It's all of the technology and services that we develop to enable our customers to deliver the intelligent, personalized experiences their customers have come to expect from every brand.
We start with the customer at the center of everything we do, with a goal of painting a complete picture of each customer. When you have a 360-degree view of the customer across Sales, Service, Marketing, Commerce, Communities—all of Salesforce solutions in an organization—as well third-party and legacy systems, you have the foundation for creating amazing customer experiences and building trusted relationships. This is what we call a single source of truth.
At Dreamforce this year, we're introducing Customer 360 Truth, a new set of data and identity services that unifies all the relevant information needed to build that single source of customer truth.
What are the hurdles companies have faced in creating that single source of customer truth?
Every company, including Salesforce, has challenges with integrating data from different systems to create that complete view of each customer. We've been evolving Customer 360 over the last few years based on feedback from our customers as well from our own experiences trying to pull together a full picture of our customers.
Seeking a single source of truth for each customer isn't a new idea, but it's been difficult to achieve. Buying a car, or even selling a CRM solution as we do, can involve hundreds of touchpoints across a variety of systems that need to be tracked and managed. Ultimately, you want to have a holistic graph of past and present customer engagement so you can better serve the customer and predict future needs.
But standing in the way of progress are siloed data; disconnected apps; a complex, patchwork of sometimes incompatible services; and no efficient way to connect all the data from inside and outside the company relevant to building a 360-degree view of the customer. Data conflicts, such as multiple usernames, email addresses, or purchase histories, exist for the very same customer. Our goal is to eliminate this friction with the Customer 360 Platform.
In addition, there are organization issues. Data silos are in part a product of organizational silos. You can't up-level customer experiences if you can't overcome organizational barriers that prevent deeper integration. When you have a more customer-centric culture, those barriers tend to break down.
What are the basic components of the Customer 360 platform?
Salesforce Customer 360 encompasses the breadth of Salesforce technology and capabilities to build apps for any industry and almost any use case. It gives employees a 360-degree view and deeper understanding of every customer at every touchpoint—whether addressing a customer service problem, creating a personalized marketing journey, predicting the best sales opportunities or surfacing product recommendations.
Customer 360 starts with our applications, which are leaders in their respective categories. In fact, according to IDC Salesforce is the #1 CRM platform and our Sales, Service and Marketing Clouds are #1 in their categories and Commerce #2. We're #1 in Model-Driven Application Platforms, and Salesforce is the leading enterprise app marketplace, with more than 5,000 unique apps in the AppExchange.
Our application framework is supported by a broad range of Customer 360 Platform services. These powerful capabilities including security, mobility, AI, voice, blockchain, data integration and more can be infused in any app built on Salesforce. Developers don't need to spend time and effort writing lots of special code to enable this essential functionality.
I mentioned Customer 360 Truth earlier, which we announced this week at Dreamforce. It consists of four elements. Customer 360 Data Manager provides the ability to access, connect and resolve a customer's data across Salesforce and other systems to create a universal Salesforce ID that represents each customer.
Data might be sitting in one or perhaps dozens of data extensions in Marketing Cloud, or some third-party system, or as a customer community profile in Commerce Cloud and Community Cloud, or as a contact record in Sales Cloud, or attached to a Service Cloud case record.
Customer 360 Data Manager is the steel thread that stitches all the data together to create a single source of truth and makes the data available to the systems a customer interacts with in realtime so that companies can deliver personalization at every touchpoint. You are able to surface insights across all of your structured and unstructured data. And because Einstein is central to the platform, teams have AI-powered recommendations to take immediate action.
Second, Salesforce Identity for Customers enables a single, authenticated and secure relationship between a customer and all of a company's websites, e-commerce stores, mobile apps and connected products with easy to use two-factor authentication. Users have a single login and companies can get a more comprehensive view employee engagement and usage.
Third, Customer 360 Audiences is our Customer Data Platform (CDP). It creates unified customer profiles across known and unknown data such as website visits, email addresses, first-party IDs and more. This allows companies to identify valued customer segments, create marketing journeys from the profiles, and glean AI-powered insights, such as likelihood to churn.
Fourth, with Salesforce Privacy and Data Governance companies will be able to collect and respect customer data use and privacy preferences, as well as apply data classification labels to all data in Salesforce. This will help customers to more easily comply with General Data Protection Regulation (GDPR) and other regulatory governance.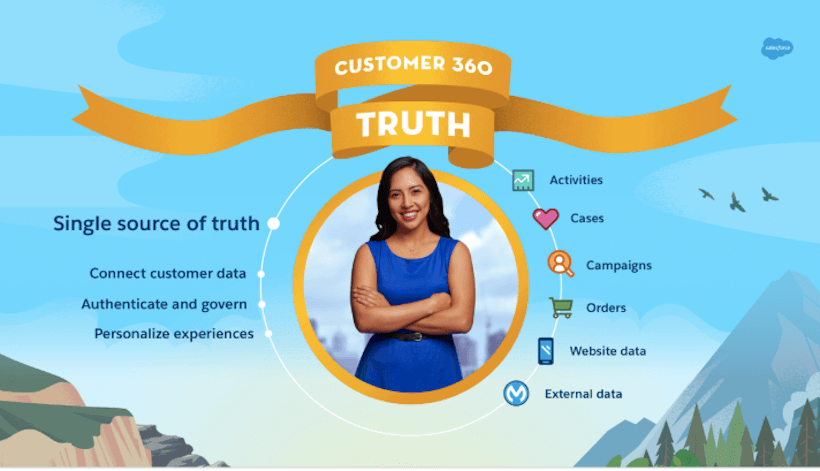 How does Customer 360 Truth enable a consistent, reconciled customer data across Salesforce apps?
Customer 360 Truth is powered by the Cloud Information Model (CIM), an open-source data model that standardizes data interoperability across cloud apps. Our MuleSoft integration and API platform also natively supports CIM. So when you are connecting data sources to Customer 360, you are mapping data from the source to a canonical data model, CIM. The Customer 360 source of truth is not only the identify of who your customer is, but it is the corresponding keys for where that data lives within Salesforce.
The CIM data model is exposed to the Salesforce platform so you can write Apex queries against it, build entity interfaces and ultimately create Lightning components. Instead of writing a custom SQL queries that connect to a third-party databases and issuing a SQL query over the wire, you're issuing a query against CIM and it returns the data into Lightning. There's a point and click interface for mapping the data to CIM, and you can easily create Lightning Web Components.
Admins can set up connections between data sources to prepare, match, reconcile and update a customer profile. The reconciled profile across apps enable employees to pull up relevant data at the time of need from any connected system, such as when a service agent may need to pull a list of past purchases from an order system in order to better assist in solving a problem. We don't need to know the underlying order system to make this happen because we've enabled the metadata to facilitate the query.
It's truly magical. We are eliminating a huge amount of friction from integrating data, and facilitating a cross-cloud, cross-org view of who your customer is and all the data that is related to a particular customer. And, it's not just the order or service case data from that one Salesforce org that you're in, it's the order or service case data from all the orgs that are connected to Customer 360.
What is the difference between Customer 360 Data Manager and Audience Manager
Customer 360 Data Manager takes a federated approach to managing data. Rather than moving all the data into a data lake, bringing in every individual piece of data about every transaction or interaction a customer has ever had, we're bringing in data related to a Salesforce customer ID, such as name, email, postal address, purchase history, as needed. For example, if you want a customer's purchase orders, you simply query the CIM for orders from Commerce Cloud and they are returned to the Lightning Web Component.
There are lots of examples where you do want to bring all of your data into one central datastore. It might be for doing certain types of business intelligence or AI modeling, or marketing automation and orchestration. In that context, you can think about the Customer 360 federation capability as a firehose into a data lake where we can track all of the different interactions and transactions that a customer is having across sales, service, commerce, and marketing. With all this data centralized we can pull out audiences of customers based on interactions that are happening anywhere within the Salesforce Customer 360 Platform. This is Customer 360 Audiences.
What makes Salesforce unique?
What makes Customer 360 Truth different is that we're leaving data where it belongs, in the systems that manage it. We're putting a map on top of the data from our clouds so that we know where it is and how to retrieve it when we need it. For admins and developers, this is a less painful and faster way to create the customer experiences. Imagine a service agent not having to go to several different systems and screens to handle a case, or how a marketer can easily access the data needed to build more personalized journeys. We want our customers to focus on making their customers happy, not on overcoming technology hurdles."
You can also check our website!